Swayambhunath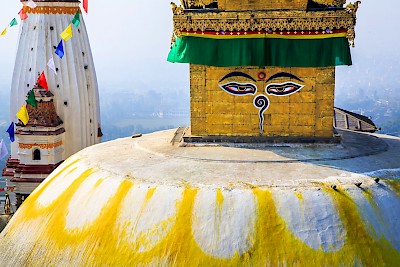 A journey up to the Buddhist temple and Unesco World Heritage Site of Swayambhunath is one of the definitive experiences of Kathmandu. Mobbed by monkeys and soaring above the city on a lofty hilltop, the 'Monkey Temple' is a fascinating, chaotic jumble of Buddhist and Hindu iconography. Even the 2015 earthquake failed to topple Kathmandu's best loved temple, though outlying buildings crumbled in the tremor.
Coming to Swayambhunath is an intoxicating experience, with ancient carvings jammed into every spare inch of space and the smell of incense and butter lamps hanging heavy in the air. The mystical atmosphere is heightened in the morning and evening by local devotees who make a ritual circumnavigation of the stupa, spinning the prayer wheels set into its base. It is a great place to watch the sun set over Kathmandu.
According to legend, the Kathmandu Valley was once a lake – geological evidence supports this – and the hill now topped by Swayambhunath rose spontaneously from the waters, hence the nameswayambhu, meaning 'self-arisen'. The compound is centred on a gleaming white stupa, topped by a gilded spire painted with the eyes of the Buddha. Depictions of these eyes appear all over the Kathmandu Valley.
The emperor Ashoka allegedly visited 2000 years ago, but the earliest confirmed activity here was in AD 460. During the 14th century, Mughal invaders from Bengal broke open the stupa in the search for gold, but the stupa was restored and expanded over the following centuries.