An exceptional home for exceptional nuns: Nagi Gompa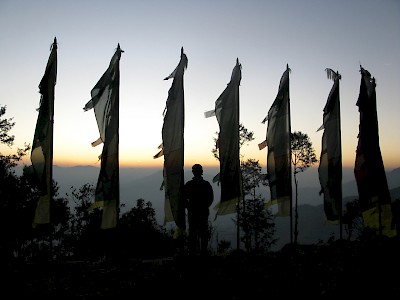 Nagi Gompa nunnery sits on a mountainside high above the Kathmandu Valley and is home to more than 100 nuns associated with Ka-Nying Shedrub Ling Monastery in Kathmandu. Here, nuns from all over the Himalayan region have come to study, practice and meditate in quiet and peaceful surroundings, and to receive opportunities generally unavailable to female practitioners previously.
At Nagi Gompa nuns are trained in classical Buddhist philosophy, as well as ritual arts and meditation practices. The nuns of Nagi Gompa are famous for their performance of "chod" – a ritualized dance form of Tibetan meditation which they have performed all over the world. In addition, more than 40 nuns at Nagi have completed at least one traditional 3-year retreat and, at present, many nuns are in lifetime retreat.
In recent years, because of the influx of so many new nuns from Nepal and Tibet, facilities at the mountainside hermitage have become strained. In 2011 construction was begun on a new accommodation block and this work was completed in May 2015.
Fortunately, the new block survived the April 2015 earthquakes intact but the main temple was damaged and needs retrofitting if it is to be made safe and brought back into use. Regrettably many of the nun's old quarters collapsed as did Gelong Gompa just below the nunnery and these must now be rebuilt.
Nagi Gompa
Nagi Gompa (formally known as Nangkyi Gompa), the nunnery and retreat center, which is also part of Ka-Nying Shedrub Ling Monastery, lies high on the northern slopes of the Kathmandu Valley. Currently 108 nuns occupy the hermitage that was under the spiritual direction of Tulku Urgyen Rinpoche until 1996. Five nuns successfully completed their three-year retreat on June 10th, 1998, Buddha's Enlightenment and Parinirvana Day, and 10 others entered retreat earlier that same year.

Under Tulku Urgyen's guidance, fifteen monks of Ka-Nying Shedrub Ling completed their own 3-year retreat in 1996 while in isolation at Nagi Gompa. Being the first gompa Tulku Urgyen Rinpoche built in Nepal, Nagi Gompa has a special history. Built in the mid-1960s, when no road led up to Shivapuri, H. H. the 16 th Gyalwang Karmapa arrived by helicopter to perform the official rabney or consecration. Tulku Urgyen, himself, crafted the three large statues of Buddha Shakyamuni, Guru Rinpoche and the Third Karmapa, Rangjung Dorje, found in the main temple. Numerous important initiations and teachings have been given at Nagi Gompa, attended by many illustrious lamas and tulkus, as well as thousands of lay people from all parts of the world.
Tulku Urgyen spent most of the latter part of his life in retreat at Nagi Gompa. At the time of his parinirvana, the expansion of the lha-khang, or main temple, had just been completed, with new paintings and statues of Green Tara and Chenrezig. Work has finished on a second temple built to replace the original smaller version which had been built by Kharsha Rinpoche, who was in charge of the hermitage before Tulku Urgyen.
The daily schedule at Nagi Gompa parallels that at Ka-Nying Shedrub Ling. In addition to morning and afternoon daily pujas, the nuns have classes twice a day with the resident Khenpo, Könchok Mönlam.
The yearly schedule of Nagi Gompa. accords with the Tibetan lunar calendar:
1st Month – 1st to 3rd Losar
3rd Month – 30th Nyung-ney begins for 16 days
4th Month - 16th Nyung-ney ends (Saga Dawa)
6th Month – 15th Yarney (Summer Retreat) begins
7th Month – 30th Yarney (Summer Retreat) ends
8th Month – 13th to 14th 2-day Nyung-ney
12th Month – Ngakso Drubchen
Monthly Schedule of Pujas at Nagi Gompa:
8th day: Ngakso
10th day: Rigdzin Düpa
15th day: Tsekar or Künzang
25th day: Chö Tsok Black Moon