Mustang trek-lo Manthang
The hidden kingdom, ancient & Tibetan culture, medieval aged cave monasteries with precious arts, Tibetan Buddhism, hundreds of years old monasteries treasured with precious artifacts, majestic and legendary landscapes.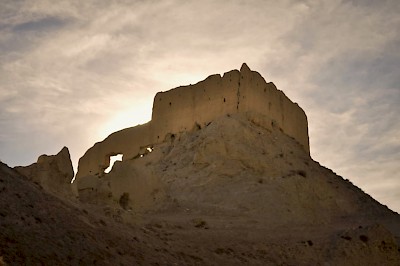 What You'll Do
Take an incredible 15-day journey through Nepal's beautiful Mustang region
Explore this ancient Himalayan kingdom alongside peaceful Buddhist monasteries
Admire some of the world's most beautiful natural and picturesque landscapes
Tibetan Buddhism, hundreds of years old monasteries treasured with precious artifacts, beautiful landscape of Tibetan plateau
What to Expect
Deep in the Annapurna Conservation Area, at the heart of the Himalayas, the picturesque region known as upper Mustang resembles the Tibetan plateau, home to yellow and gray rolling hills eroded by violent winds. This extensive and remarkable trek will let you discover some of Nepal's most breathtaking and legendary regions, including the ancient Kingdom of Lo that shares a border with Tibet.
Formerly the Kingdom of Lo and a part of the Western Tibetan Kingdom of Ngari, 'forbidden' Mustang has lured intrepid travelers to its remote realm for centuries, but only the most adventurous made it to this mountainous and inaccessible bastion of Tibetan Buddhism. Exploration of this timeless, ethnically Tibetan region, untainted by foreign occupation is a privileged journey following some of the less trekked routes through this sun-drenched region of the middle Himalaya border region. The region is monsoon rain shadow area behind the Himalayan ridge just like Tibet. Some extra days are needed to explore the valleys above Lo, Luri Gompa and Yara, and to trek the remote route from Tetang to Muktinath. Many trekkers have also the privilege of royal audience at the royal residential palace at Lo Manthang the capital of Mustang. The king previously an absolute monarch still enjoys cultural authority and is well respected among the Mustangis.
This tour will show you why adventurers keep returning to this amazing place!
Mustang trek-lo Manthang itinerary
Day 1- Arrival at Tribhuvan International airport,Kathmandu. Check in at the Kathmandu hotel.
Day 2-Departure for Pokhara by tourist bus. Explore Pokhara. Free evening time.
Day 3- Departure for Jomson (2780 m/ 8923 ft ) by domestic air and will hike for next 3 hours for kagbani. Overnight stay at kagbani.
Day 4- Hike will continue to Chaila ( 3050 m/ 1006 ft ), overnight stay at Chaila. Total 5 hours of walking.
Day 5- We will start early morning from Chaila to Syangboche/Ghiling (3800 m/ 12467 ft ). Overnight stay at Syangboche/Ghiling. Total walking 8 hours.
Day 6- Today is a relax day, we will hike for 4 hours to reach Ghami ( 3520 m/ 11548 ft ) and spend a night.
Day 7- Early morning departure for our next destination Charang ( 3560 m/ 11679 ft ). We will hike for 7 hours and spend over night.
Day 8- From Charang we will walk for 7 hours to reach Lo-manthang ( 3809 m/ 12496 ft ) and will stay for 2 nights. During this day we will visit King Palace, monastery and cave.
Day 9- Early departure to Dhakmar 3820 m/12532 ft), visiting old monastery and overnight stay.
Day 10- 7 hrs of hike from Dhakmar to Syangboche ( 3800 m/ 12467 ft )and stay there.
Day 11-Syangboche to Chuksan ( 2980 m/ 13057 ft )hike for 6hrs and stay overnight there
Day 12-Chuksan is a second last destination to hike to Jomsom ( 2720 m/ 8923 ft ).
Day 13 –Fly back to Pokhara, free day at Pokhara. Overnight stay.
Day 14- Drive back to Kathmandu, overnight to stay hotel. Farewell dinner hosted by HD.
What's included
Airport pickup & drop in Kathmandu and in Pokhara.
Accommodation in boutique hotel at Kathmandu and stars hotel in Pokhara with breakfast
Guide and Porter
Domestic air tickets two way Pokhara-Jonsom-Pokhara. One way Pokhara-kathmandu air ticket and tourist bus ticket from kathmandu-Pokhara
During the trekking, all accommodation will organized in teahouse/lodge with three meals ( breakfast, lunch & dinner )
Down jacket, sleeping bag, duffel bag, cap and trekking pole. Please note: down jacket, sleeping bag and trekking pole are to be return after the trip completion
Trekking permit and Govt. taxes
Necessary equipment's needed for trekking.
First kid box.
What is not Included
Extra nights accommodation in Kathmandu or during the trekking due to any reasons rather than mentioned nights in itinerary
Travel and rescue insurance
Consumptions of extra meals and beverage
Tips to guide or porter
Excess baggage fee
Personal expense
...

Mustang trek-lo Manthang

Duration: 14 nights/15 days
You'd like to know more about this trip "Mustang trek-lo Manthang"? Don't hesitate and write us a message!
Related Treks tours you might be interested in